Infinity Ward discusses bullet drop and weapon archetype changes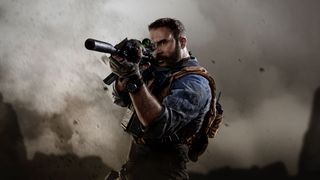 (Image credit: Activision)
In a lot of ways, Activision and Infinity Ward are going back to basics with the Call of Duty: Modern Warfare reboot. Returning characters, classic guns, and none (or way, way less) of the new-age sci-fi nuttiness that's defined the most recent games. But as Infinity Ward explained in a recent blog post, the new Modern Warfare is also making fundamental changes to the way weapons handle.
"We were a little less precious with these [weapons] systems," said multiplayer design director Geoff Smith. "We looked to see what still made sense, and pulled stuff out that we feel didn't work, even if it made the team uncomfortable. Everybody on the team had pre-conceived notions on what 'Call of Duty' is and we had to shake people out of that mindset."
Some longstanding weapon types are also receiving a bit of a shake-up. SMGs, for instance, have been high-recoil close-range weapons for years, but as Smith noted, "in reality, they are low-calibre weapons and are easier to control; they're lower damage, they're fairly accurate, so we've shifted the role of that weapon around."
At the same time, some of the customisation options coming in the Call of Duty: Modern Warfare Gunsmith system will give weapons a huge range of, well, ranges. Smith teased that "we have a shotgun that you can make by adding a long-barrel and a sniper scope, making it a sniper shotgun. Or you can modify that same weapon by removing the barrel and stock, and get this snub-nose, super-fast weapon that's completely different than how you started out."
Speaking of the multiplayer skill ceiling: Call of Duty: Modern Warfare will thankfully have dedicated servers on all platforms.
Call of Duty fans, you can finally rest easy: Call of Duty: Modern Warfare will have dedicated servers and support crossplay at launch. According to a Game Informer cover story (via Charlie Intel), Infinity Ward and Activision are confirming that alongside full cross-play support for PC, PS4, and Xbox One, Modern Warfare will feature dedicated servers to ideally help ensure stability at launch and beyond.
Dedicated servers aren't anything new to Call of Duty, but with the introduction of crossplay support to the franchise with the upcoming Modern Warfare, it's even more crucial to ensure stable server performance by forking out for dedicated servers. With the pervasive issue of server instability in online competitive gaming, it's a big relief to hear it's quickly becoming commonplace for AAA developers to address the issue before it becomes an issue.
Of course, the announcement of dedicated servers is far from a 100% guarantee that Call of Duty: Modern Warfare will launch completely free of server problems, especially with the series' patchy history in that regard. Regardless, it's certainly a step in the right direction.
As for cross-play, it'll work similar to Fortnite, where matchmaking is input-based. That means players using controllers will be paired with other controller-users, and mouse & keyboard players will be paired up likewise. As for PC players looking to play with console-based friends, Infinity Ward has come up with a seemingly workable solution; in these situations, teams of mixed input players will be matched with other teams comprised of both mouse & keyboard players and controller players.
All posts,images & logos are copyright of their respective owners ADHDg.com is not affiliated with any companies.